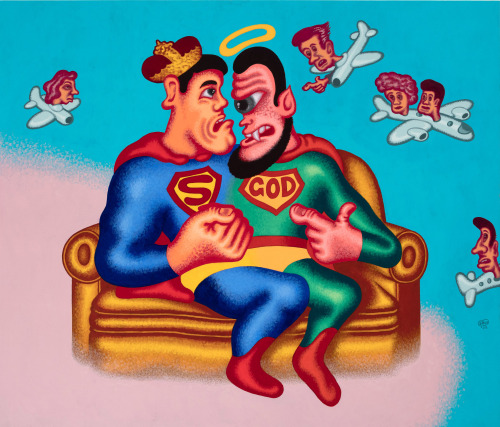 Michael Werner Gallery, London is pleased to present Peter Saul: New Work, an exhibition of new paintings and works on paper by the eminent American painter Peter Saul (b. 1934).
At 87 years old, Saul continues to make paintings that feel urgent to our time. Throughout his over six-decade career, the artist has addressed critical topics of the day with unbridled courage. Nothing is too sacred to be mocked, including American post-war consumerism, the Vietnam War, the trial of Angela Davis, American politics, Saddam Hussein, and the art world itself.
The moral ambiguity with which Saul renders his subjects, paired with his disinterest in adhering to any ideology or group, reliably put him at odds with the art world. Saul elaborates, "I don't believe in any ideas of art because they might interfere with painting my picture the way I want. But I'm not mad at these ideas, either. I've had situations where Cubism, Surrealism, Impressionism, etc. have helped me."
In Peter Saul: New Work, the influence of these famous artistic movements is unmistakable. A bowl of flowers and fruit is inspired by the still lifes of Monet, the setting of an impending brawl between Superman and Satan is taken from historic religious painting, the composition of a painting about brushing teeth is based off the drip paintings of Jackson Pollock, and a three-coloured horse is inspired by Surrealism.
Paying homage to the history of art, Saul also fights against it. In "Peter Saul versus Modern Art, Round One", Saul defiantly paints himself, grey-haired and bulging eyes, getting beaten up by a Cubist structure tumbling into the picture frame. He calls it "Round One" because next time he's "going to use a gun to shoot the hell out of Modern Art."
Peter Saul: New Work opens on 27 May 2022 with an opening reception on 26 May from 6-8PM, which will celebrate both the exhibition and Peter Saul's first extensive monograph published by Rizzoli last year. The artist will be present and signed copies of both the trade and special editions of the monograph will be available for purchase.
Since his first solo exhibition in 1961, Peter Saul's work has been exhibited throughout the world. His paintings are found in numerous museum collections worldwide, including the Metropolitan Museum of Art, New York; Museum of Modern Art, New York; Whitney Museum of American Art, New York; Art Institute of Chicago; Carnegie Museum, Pittsburgh; Centre Pompidou, Paris; Los Angeles County Museum of Art; Moderna Museet, Stockholm; Museum Ludwig, Cologne; and Stedelijk Museum, Amsterdam. Recent important exhibitions include Peter Saul at the Schirn Kunsthalle in Frankfurt, Pop, Funk, Bad Painting and More at Les Abattoirs in Toulouse and Le Delta in Namur, and his first retrospective in New York, Peter Saul: Crime and Punishment at the New Museum.
The exhibition will be accompanied by a full-colour catalogue with text from Peter Saul. Gallery hours are Tuesday through Saturday, 10AM to 6PM.