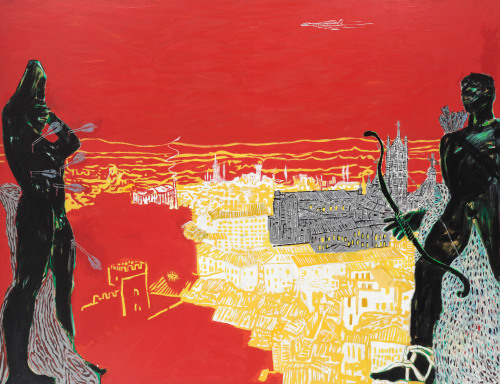 Michael Werner Gallery is pleased to present an exhibition of early works by Peter Doig. The exhibition presents a comprehensive overview of Doig's formative works from the 1980s and includes several paintings and drawings shown for the first time.
In a career spanning three decades Peter Doig has established himself as one of the most inventive and accomplished artists working in painting today. Earning international critical recognition in the early 1990s, Doig reshaped the discussion around painting at a time when many artists and critical thinkers preoccupied themselves with rumors of its death. Obsessed with the evocative potential of paint and decidedly pictorial in appearance, Doig's work embraces the recent history of abstraction, broader traditions of narrative painting and contemporary popular culture. His inventive approach to the language and medium of painting, coupled with a use of photography and cinematic sources, has allowed Doig to create some of the most resonant images in contemporary art. Then as now, his singular approach to painting amounts to a thorough reimagining of the medium's potential for depth and meaning.
The roots of Doig's painterly revival are deep and varied, as his works from the 1980s demonstrate. Created shortly after the artist settled in London, these early works show Doig mining various sources and painterly traditions and experimenting with a range of techniques. The Hairy Who and Chicago Imagists, along with artists as diverse as Miro, Chagall and A.R. Penck, are revealed as major touchstones for Doig and are evoked in his light touch and unexpected, often jarring, palette. Pop Art and popular culture are present as well, and it is in these works that one sees the emergence of cinematic imagery and the concept of the recurring motif - elements essential to Doig's practice today. As this exhibition makes clear, Doig is a sophisticated visual thinker endlessly fascinated with the process and history of painting.
Peter Doig was born in Edinburgh in 1959 and raised in Trinidad and Canada before he moved to London in 1979 to study painting. In 2008 he was awarded the Wolfgang Hahn Prize from the Society of Modern Art, Museum Ludwig, Cologne. That same year, Tate Britain organized the artist's first large-scale career survey exhibition, which later traveled to Musée d'Art Moderne de la Ville de Paris and Schirn Kunsthalle Frankfurt. Doig has presented several major solo museum exhibitions, including Blizzard Seventy-Seven, Kunsthalle Kiel, Kunsthalle Nuremburg and Whitechapel Art Gallery, London (1997); Echo Lake, Museum of Contemporary Art, Miami, Berkeley Art Museum and St. Louis Art Museum (2000); Almost Grown, The Power Plant, Toronto (2001); Charley's Space, Bonnefantenmuseum, Maastricht and Carré d'Art contemporain de Nimes (2003); Metropolitain, Pinakothek der Moderne, Munich and Kestnergesellschaft, Hannover, (2004); Go West Young Man, Museum der Bildenden Kunst, Leipzig (2006); and Musée d'Art Moderne de la Ville de Paris (2010). In 2011 New York's Metropolitan Opera exhibited works inspired by Wagner's Ring cycle.
No Foreign Lands, a major exhibition surveying recurrent motifs in Doig's paintings and drawings from 2000 to the present, is currently on view at the Scottish National Gallery, Edinburgh. The exhibition travels to Musée des Beaux-Arts de Montreal, Montreal, in 2014.
Peter Doig: Early Works opens 6 November at Michael Werner Gallery, New York, and remains on view through 3 January 2014. The exhibition is accompanied by a fully illustrated catalogue with a text by Dr. Richard Shiff. For more information please email press@michaelwerner.com.