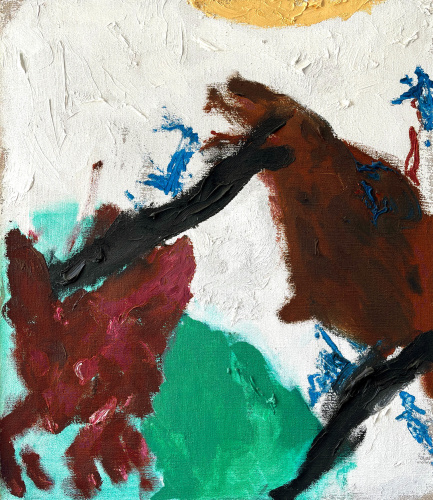 "Raven
they hold the
air like a brush
painting
with strokes
as they go
but never grasping
for fear of
halting their passage
through the space"
-Don Van Vliet, July 1991
Michael Werner Gallery, London is pleased to present Don Van Vliet: Standing on One Hand, an exhibition of paintings from the 1980s and 1990s by American artist Don Van Vliet (b. 1941, d. 2010).
A musician, poet, and painter, Don Van Vliet is famously known by his stage name Captain Beefheart. Throughout the course of his music career, Captain Beefheart and his Magic Band recorded thirteen bold, highly experimental studio albums, securing his place in history as a pioneering and unconventional rock and roll artist. As a child, Van Vliet starred on a weekly local television show as a gifted young sculptor. He painted throughout his life. However, in the mid-1980s, he shifted his immense creative energy away from music and performance, focusing solely on painting.
Nature was a source of great inspiration for Van Vliet. The desert, where he spent a large portion of his life, inspired his thick, white painted backgrounds, reminiscent of the desert sun. Van Vliet has said, "The way I keep in touch with the world is very gingerly." In tune with animals and nature, the artist was also fully engaged with his senses and dreams. Art critic John Yau explains: "Dream, sight, sounds, smell, taste, and touch are inextricable aspects of his experience. For Van Vliet, one of the burdens his paintings must bear is his attempt to preserve the unity of his experience with a fleeting world in which the inner and outer zones mix."
Born in Glendale, California in 1941, Don Van Vliet's work has been exhibited in galleries and museums worldwide, including San Francisco Museum of Modern Art, Bielefelder Kunstverein, Brighton Museum and Art Gallery, Cleveland Center for Contemporary Art, PS.1 Contemporary Art Center, New York, and the Brant Foundation in Greenwich, Connecticut. Van Vliet died at home in Northern California in 2010.
Don Van Vliet: Standing on One Hand opens on 22 November with a private view from 6-8pm and will remain on view through 17 February. The exhibition is accompanied by a full-colour catalogue with a text by London-based artist and writer Charlie Fox.