THOMAS HOUSEAGO: THE MOON AND THE STARS AND THE SUN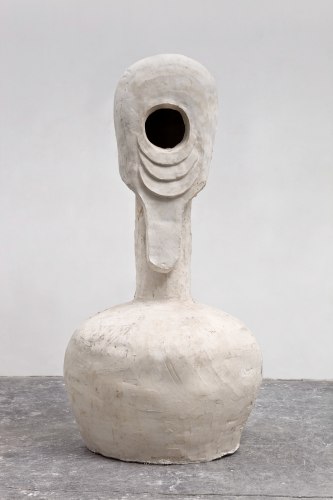 Michael Werner gallery is pleased to present The Moon and the Stars and the Sun, an exhibition of new works by Los Angeles-based artist Thomas Houseago. This is the artist's first solo exhibition in New York City.
Thomas Houseago's approach to sculpture is profoundly subversive. He is radical in his conservatism, upending our contemporary notions of sculpture with works that embrace history and the immediacy of the artist's hand. His materials - plaster and hemp, wood and iron - are primary and raw, and his technique - hand-made, rooted in drawing - is primal. His style is figurative, typically reinterpreting human form through formal invention, distorted anatomy and exaggerated scale. Cubism, Futurism and various manifestations of the primitive and classical are among the broad range of art historical precedents that inform his work, for which Houseago makes no apologies. History is of paramount importance to the artist. Houseago appears to revel in all that is "not contemporary", unabashedly looking to the past to make his own way forward.
A full appreciation of Houseago's seemingly reactionary position is possible when one follows the path that led him backwards. Formed in the absence of any direct contact with so-called high culture, Houseago's artistic sensibility was instead born of television, popular music, science fiction and horror films, and comic illustrations. The artist speaks of finding significant form at the movies, thus activating for him a reverse reading of modernism through its descendants in the popular culture: think Brancusi as the formal antecedent to Star Wars' Stormtroopers. His striding, squatting and reclining humanoid forms, embodying the classical, the abstract and the other-worldly, are as much the stuff of Rodin and Picasso as they are of Judge Dredd. Leveling the divide between history and the contemporary, Houseago leads us, with him, back to the future.
Thomas Houseago was born in Leeds 1972 and lives and works in Los Angeles. In addition to several recent gallery exhibitions in the United State and Europe, he has exhibited at Stedelijk Museum Bureau, Amsterdam; S.M.A.K., Ghent; Sonsbeek, Arnhem; The Ballroom, Marfa; and the Rubell Family Collection in Miami. His work is included in the current Whitney Biennial, 2010, and in the spring he will present monumental bronzes in Statuesque, a sculpture exhibition organized by the Public Art Fund for Manhattan's City Hall Park. In December, the Museum of Modern Art, Oxford, will present the artist's first solo museum exhibition.
The Moon and the Stars and the Sun is on view 16 April - 5 June. The exhibition is accompanied by a full-color catalog featuring essays by artist Enrico David and Dr. Jon Wood of the Henry Moore Institute, Leeds. Gallery hours are Monday through Saturday, 10AM to 6PM. For more information please contact press@michaelwerner.com