RAPHAELA SIMON: ERDBEEREN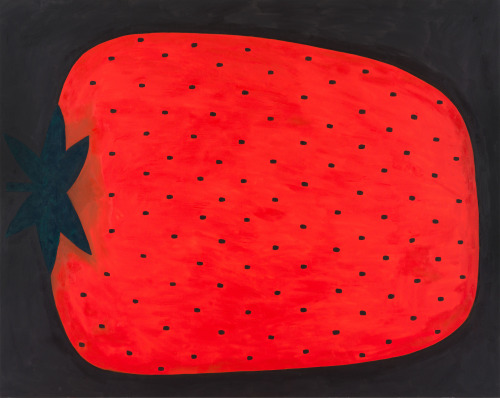 Michael Werner Gallery, London is pleased to present Erdbeeren, an exhibition of paintings and sculptures by Berlin-based artist Raphaela Simon (b. 1986). This is the artist's first solo exhibition in London and first with Michael Werner Gallery.
With simple forms and vibrant colours, Raphaela Simon delicately evokes a pictographic inventory of the ordinary. Simon's large paintings depict trousers, wristwatches, trash cans, and strawberries, each afloat over hazy, monochromatic backgrounds. While these paintings appear wholly representational, they carry a powerful conceptual undercurrent: Simon achieves a picture-book simplicity that transforms her paintings into recurring motifs of memory and nostalgia, as if these visual totems each possess a forgotten narrative. Her sculptures further complement these themes: stitched together with fabric, wood and wire, a cast of soft mannequins suggest the busy centre of an imaginary village, full of policemen, dogwalkers, and daily commuters. Together, the works in Erdbeeren seem to point not towards realism but rather the essence of the subjects depicted.
Raphaela Simon was born in 1986 in Villingen, Germany and currently lives and works in Berlin. She studied at the Kunstakademie Düsseldorf and the Academy of Fine Arts, Munich. Recent exhibitions include Sterne, Galerie Max Hetzler, Berlin (2019); Karo, TRAMPS, New York (2017); Staubsauger, Galerie Max Hetzler, Berlin (2017); and Tischlein deck dich, Hannah Hoffman Gallery, Los Angeles (2016).
Raphaela Simon: Erdbeeren opens on 22 November 2019 with a reception on 21 November 2019 from 6-8PM and will remain on view through 18 January 2020. The exhibition will be accompanied by a catalogue featuring a story by Thomas Bernhard. Gallery hours are Tuesday through Saturday, 10AM to 6PM. For more information, please contact the gallery at press@michaelwerner.com.