PIERRE PUVIS DE CHAVANNES: WORKS ON PAPER AND PAINTINGS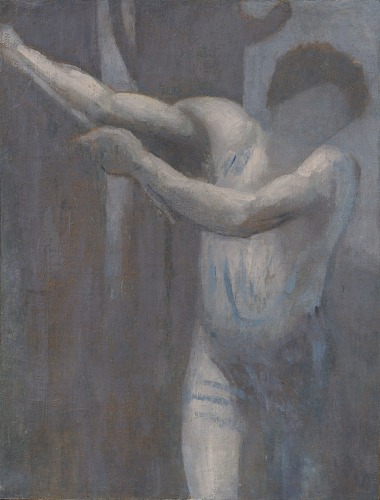 Michael Werner Gallery, New York is pleased to present an exhibition of works by French painter Pierre Puvis de Chavannes (1824-1898), opening 30 November. Comprising loans from private and public collections, this exhibition presents a selection of works on paper and paintings by a seminal artist of the late nineteenth century. The exhibition is curated by art historian and former National Gallery of Canada, Ottawa curator Louise d'Argencourt, and Bertrand Puvis de Chavannes, the painter's great grandnephew, an art historian, and the President of the Comité Puvis de Chavannes. D'Argencourt also organized the first posthumous Puvis de Chavannes retrospectives at the Musée du Louvre, Paris (1976), and the National Gallery of Canada, Ottawa (1977).
Pierre Puvis de Chavannes was born in Lyon, France in 1824, the youngest of four children in a family descended from Burgundy nobility. Puvis anticipated a career in engineering, following his father, until his studies were interrupted by the death of his mother, an illness and lengthy convalescence, and an eventual sojourn in Italy meant to help him regain his health. The latter experience, in particular his exposure to Giotto and Piero della Francesca, made a deep impression on Puvis, who determined to pursue a life in art upon his return to Paris in 1848. Puvis soon worked in the studios of Henri Scheffer, Eugène Delacroix and Thomas Couture and largely avoided conventional artistic training, instead preferring anatomical studies at the École des Beaux-Arts, making copies in the Louvre and painting alone in his studio. His interest in grand heroic themes and classical imagery led Puvis to undertake mural painting, at that time considered the supreme ambition for all serious Realist painters.
Throughout his ensuing four-decade career Puvis consistently endeavored to refine a classicized and highly decorative aesthetic appropriate to fine mural painting. Puvis developed his own curiously nuanced palette of matte, whitened tones, painted in a way to emphasize and imbue his figures with solidity and flatness. His mastery of finely calibrated compositions and interlocking forms further enhanced his pictures' oddly ethereal realism and lent his figures an essential solitude. His decorative formalism and radical simplification, developed in pursuit of a muralist ideal, had not previously been employed in conventional painting as it was understood at the time. Existing outside accepted movements and categories, the paintings of Puvis proffered a high degree of creative freedom which his immediate successors recognized and eventually used to their own ends.
By the time of his death at the age of 73, Puvis de Chavannes was already a liberating influence for artists as diverse as Cézanne, Gauguin, Van Gogh, Seurat and Matisse, among many others, all of whom openly expressed their deep admiration for Puvis' advanced genius. Puvis was important also for Picasso, whose Blue Period figures owe much to Puvis, as well as the Surrealists, who in their own ways embellished upon the artist's melancholy airlessness.
Works by Puvis de Chavannes hang in major museums around the world, including the Louvre, the Musée d'Orsay, the Petit Palais, Musée Picasso, the Rijksmuseum, the Art Institute of Chicago, the Metropolitan, the Smithsonian and the Carnegie, to name only a few.
Pierre Puvis de Chavannes: Works on Paper and Paintings opens 30 November at Michael Werner Gallery, New York. A fully illustrated catalogue with texts by the curators will be published by the gallery. Gallery hours are Monday through Saturday, 10AM to 6PM. For more information, please contact the gallery at press@michaelwerner.com.