PER KIRKEBY: WORKS ON PAPER, WORKS IN BRICK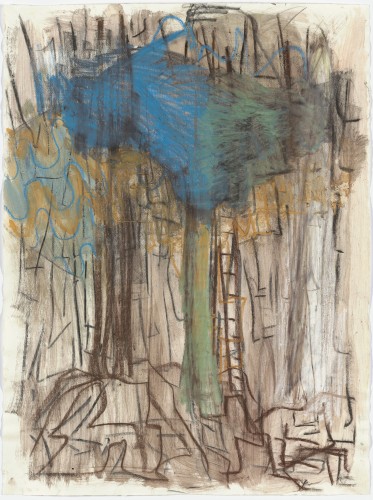 Michael Werner Gallery, New York is pleased to present an exhibition of works on paper and brick sculptures by Danish artist Per Kirkeby. This is the first time many of these sculptures have been shown since their first exhibition in Europe in the mid-1970s.
The genesis of Kirkeby's works in brick can be traced back to the artist's years at Copenhagen's Experimental Art School in the 1960s, his subsequent Fluxus-inspired activities in the 1970s, and his travels to Central America, which exposed him to Mayan art and architecture. In both his painting and sculpture, Kirkeby was consistently fascinated with the relationship between interior and exterior spaces, both natural and man-made. He created his first brick sculpture in Copenhagen in 1966 and continued to build both temporary and permanent sculptures throughout his career. With both a nod to minimalism and to the brick's quintessentially Danish history, Kirkeby's brick works are contemplative, often ornamental sculptures that challenge notions of architecture and abstraction. Working in brick was also, in part, an experiment in obstruction: limiting his palette to nothing more than simple bricks was a way to explore space and light in their most essential forms. As bricks are always a standard size, their innate potential is always the same, yet in each sculpture Kirkeby overcomes these limitations and proves the material's elasticity. At Michael Werner, a selection of brick sculptures will be shown with a group of works on paper from the artist's personal collection. Together, this exhibition presents a body of work that explores Kirkeby's steadfast interest in experimentation and recurring motifs, all while illuminating the artist's unique way of seeing.
An internationally celebrated painter, sculptor, filmmaker and author, Per Kirkeby (1939-2018) is one of the most important artists of his generation. Works by Kirkeby are found in many museum collections worldwide including Tate, London; Centre Pompidou, Paris; Metropolitan Museum of Art, New York; and Museum of Modern Art, New York, among many others. Important solo museum exhibitions include Van Abbemuseum, Eindhoven; Kunsthalle Bern; Whitechapel Art Gallery, London; Museum Ludwig, Cologne; Louisiana Museum of Modern Art, Humlebæk; Tate Modern, London; BOZAR Centre for Fine Arts, Brussels; and the Beaux-Arts de Paris. The first volume of The Complete Bricks, a three-part catalogue raisonné, was published last month by Walther König.
Per Kirkeby: Works on Paper, Works in Brick opens 20 November at Michael Werner Gallery in New York and will remain on view through 25 January 2020. Gallery hours are Monday through Saturday, 10AM – 6PM. For more information, please contact the gallery at press@michaelwerner.com.