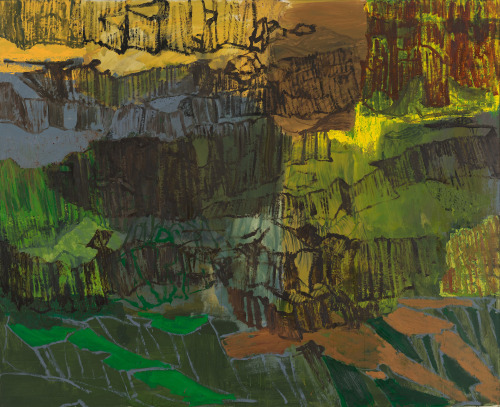 Michael Werner Gallery, London is pleased to present an exhibition of paintings by Danish artist Per Kirkeby (1938-2018). Taking the form of a small retrospective, the show focuses on the artist's lifelong engagement with landscape, geology, and the natural world.
Kirkeby's interest in visible and invisible structures that configure the physical world has been well-documented. The artist studied geology in the 1950s, traveling on expeditions to Greenland and the Arctic. Making a radical shift in his life, Kirkeby decided to become an artist and enrolled in Copenhagen's Experimental Art School in the early 1960s.
One of Scandinavia's most important 20th century artists, Kirkeby followed the tradition of Northern European painters like Caspar David Friedrich and Edvard Munch. Like his predecessors, the artist sought to encapsulate the light and patterns of the landscape of his homeland on canvas. Trained as a geologist, Kirkeby understood the earth to be geologically unstable and continually moving between states of mineral complexity and processes of collapse. These terrestrial changes were recognized by Kirkeby to be inherently connected to the indescribable attributes of the human experience. It was through painting, drawing, and sculpture that he searched for ways to connect with the realities of an ever-changing world.
An internationally celebrated painter, sculptor, filmmaker, and author, works by Kirkeby are found in many museum collections worldwide including Tate, London; Centre Pompidou, Paris; Metropolitan Museum of Art, New York; and Museum of Modern Art, New York, among many others. Important solo museum exhibitions include Louisiana Museum of Modern Art, Humlebæk; Museum Jorn, Silkeborg; the Beaux-Arts de Paris; The Phillips Collection, Washington, DC; BOZAR Centre for Fine Arts, Brussels; Tate Modern, London; IVAM Centre del Carme, Valencia; Museum Ludwig, Cologne; Whitechapel Gallery, London; and Stedelijk Van Abbemuseum, Eindhoven.
Geological Messages: Paintings from 1965–2015 opens on 24 February with a private view on 23 February from 6-8PM and will remain on view through 21 May. The exhibition will be accompanied by a full-colour catalogue. Gallery hours are Tuesday through Saturday, 10AM to 6PM. For more information, please contact the gallery at press@michaelwerner.com.