MARKUS LÜPERTZ: DANS L'ATELIER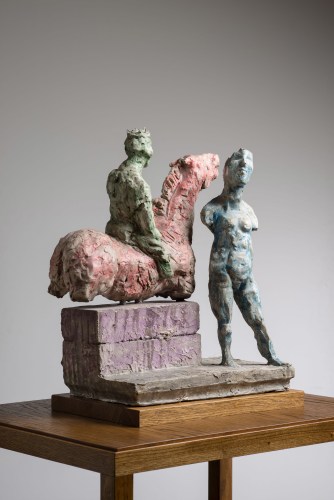 Michael Werner Gallery, New York is pleased to present Markus Lüpertz: Dans l'Atelier, opening 18 April. The exhibition was originally conceived for the Musée de la vie Romantique in Paris, where it was on view last year.
Comprising over two dozen plaster and wax sculptures completed between 2016 and 2018 as well as paintings and works on paper, Dans l'Atelier presents viewers with an intimate look at Lüpertz's conceptual process. Throughout his career, Lüpertz has sought balance in his art – a space between painting and sculpture, abstraction and figuration – and these new sculptures provide a striking new counterpoint to the artist's forty years of work in bronze. These primordial sculptures manifest a lightness and fragility seldom seen in Lüpertz's oeuvre and possess a delicate materiality and form that is entirely new. They continue to develop themes that have fascinated the artist throughout his career – mythology, the classical figure, music, and the role of beauty in art – and exemplify Lüpertz's lifelong and continued interest in engaging with classicism and tradition.
Markus Lüpertz (b. 1941, Liberec, Bohemia) is one of the most important and influential artists to emerge from post-war Germany and has been exhibiting his work worldwide for over fifty years. In recent years important retrospective surveys have been shown at Kunst- und Austellungshalle der Bundesrepublik Deutschland, Bonn (2009); Gemeentemuseum, The Hague (2011); The Hermitage State Museum, St. Petersburg (2014); and the Musée d'Art Moderne de la Ville de Paris (2015). In 2017, two simultaneous retrospectives were presented in the United States at the Hirshhorn Museum and the Phillips Collection in Washington, DC.
Markus Lüpertz: Dans l'Atelier will open 18 April at Michael Werner Gallery, New York. Gallery hours are Monday through Saturday, 10AM to 6PM. For more information, please contact the gallery at press@michaelwerner.com.