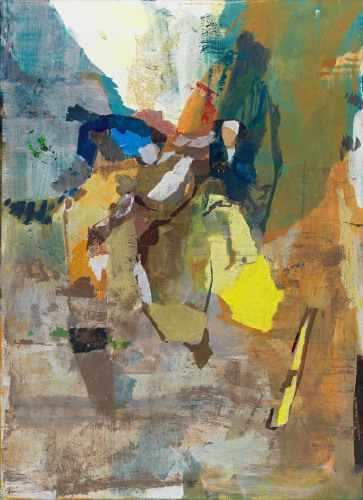 Michael Werner Gallery, New York is pleased to present Maki Na Kamura, the first solo exhibition in New York of Osaka-born, Berlin-based painter Maki Na Kamura.
Many critics have highlighted the competing polarities in the paintings of Na Kamura, namely the Japanese and Western influences, the abstract and figurative elements, the fact that she sees herself as a traditional painter and an artist of the 21st century, as well as the harmonious use of both tempera and oil paint, two materials traditionally labeled as distinct. While influence, style, and time are fluid for Na Kamura, she does not see her work as existing in a liminal space. Instead, the polarities are intentional and deliberately provoke the viewer.
Comprised of new paintings and works on paper, this exhibition follows a double solo show of Na Kamura's work at Galerie Michael Werner and Contemporary Fine Arts in Berlin. In her new work, the artist continues to champion painting and explores diverse structures, from the compositions of Old Master paintings to the choreography of K-pop.
Maki Na Kamura studied at Kunstakademie Düsseldorf. She has been included in numerous solo and group exhibitions across Europe and Japan. Solo museum exhibitions have been held at Museum Dhondt-Dhaenens in Deurle, Belgium (2017); Osthaus Museum Hagen in Hagen, Germany (2017); Bilbao-Arte – centro de arte contemporáneo in Bilbao, Spain (2015); and Oldenburger Kunstverein in Oldenberg, Germany (2014). Na Kamura was awarded the Falkenrot Prize in 2013. Na Kamura lives and works in Berlin.
Maki Na Kamura opens to the public on Friday 17 November with an opening reception on Thursday 16 November from 6 to 8pm and will remain on view through Saturday 27 January. A full-color catalogue with a text by John Yau will accompany the exhibition. Gallery hours are Monday through Saturday, 10AM to 6PM.