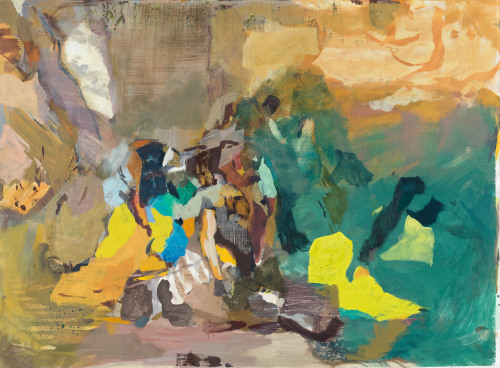 Michael Werner Gallery, London is pleased to present Maki Na Kamura, an exhibition of new paintings by Osaka-born, Berlin-based artist Maki Na Kamura.
Given her background, many critics highlight the competing polarities of Japanese and Western influences in her paintings, but the reality is more complex. Japanese art has long informed European painting. Na Kamura elaborates, "Hokusai compensated for his lack of knowledge of perspective with his pictorial inventions. Sesshu built his pictorial space into the painting. Had Cézanne known about this, he would have been spared his labours." Furthermore, Na Kamura does not categorize. She sees her work as both figurative and abstract and that these styles, often thought of as distinct, developed in tandem throughout the history of art.
Dichotomies do not exist to Na Kamura, and style and time are fluid. Seeing herself "as both a traditionalist and as a painter of the twenty-first century", for the new works on view, the artist pulls structure from as diverse sources as the paintings by Italian Renaissance master Luca Signorelli and the choreographed gestures of contemporary K-pop dancers. She is communicating with the art of the past and with the viewer in the present: "As long as I produce pictures that are seen, they remain communicative. They're open."
Maki Na Kamura (b. Osaka) studied at the Kunstakademie Düsseldorf. She has been included in numerous solo and group exhibitions across Europe and in Japan. Solo museum exhibitions have been held at Museum Dhondt-Dhaenens in Deurle, Belgium (2017); Osthaus Museum Hagen in Hagen, Germany (2017); Bilbao Arte – centro de arte contemporáneo in Bilbao, Spain (2015); and Oldenburger Kunstverein in Oldenberg, Germany (2014). Na Kamura was awarded the Falkenrot Prize in 2013. Her work is in the collection of Musée d'Art Moderne de la Ville de Paris, France. Na Kamura lives and works in Berlin.
Maki Na Kamura opens on 21 April with a private view on 20 April from 6-8pm and will remain on view through 17 June. The exhibition will be accompanied by a full-colour catalogue with a text by Travis Jeppesen.