JAMES LEE BYARS: EARLY WORKS AND THE ANGEL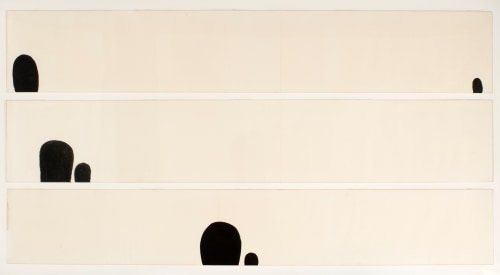 Michael Werner Gallery in London is pleased to announce an exhibition of major works by the late American artist James Lee Byars. Early Works & The Angel presents Byars's extraordinary sculpture, "The Angel", exhibited alongside several early sculptures, painted scrolls and performative objects. This provocative pairing charts the origin of Byars's aesthetic as it emerged in Japan during the late 1950s and early 1960s, examining the artist's obsession with figuration and his lifelong quest for perfect form.

Early Works & The Angel is an exhibition in two parts. The first room revisits an exhibition of Byars's early works which the gallery presented in New York in 1993, while the artist was alive. Drawing on loans from prominent American institutions and private collections, the London exhibition includes sculptures, scrolls and performative objects dating from the artist's time in Japan, where he lived and worked for nearly ten years beginning in 1958. It was during these formative years abroad, and in his frequent returns to America, that Byars honed the artistic concepts that would come to define his life and work. The artist's appreciation of ceremony, formal rigor and transient beauty are important legacies of his time in Japan, as is his unique sensitivity to materials. The works Byars brought back with him to America show him experimenting with ceramic, stone, wood and paper. In these early works Byars first developed his personalized approach to figuration, a process he later termed "arbitrization": though abstract and Minimalist in appearance, Byars's reductive early sculptures were decidedly figurative representations, typically characterized by simplified human forms.
The second room of the exhibition moves ahead three decades and features "The Angel", one of Byars's most important sculptures. The work is made of 125 hand-blown glass globes created in Venice over a period of more than one year, terminating in 1989. Arranged on the floor to form a stylized figure, the fragile spheres form an abstracted human form which is in fact derived from the Japanese kanji character for "man". "The Angel" also bears another relationship to the body: each sphere of glass was formed by a single breath of the glass-blower. Taken together, these two rooms highlight different aspects of Byars's unique sensibility, tracing the origins of his aesthetic and the emergence of the artistic obsessions he would pursue throughout his life.
James Lee Byars was born in Detroit in 1932 and studied art and psychology at Wayne State University. He presented his first museum exhibition in 1958, a legendary event that took place in the stairwell of New York's Museum of Modern Art and lasted only one day. Over the following decade Byars lived and worked in Japan where he presented many performances and exhibitions, including "The Performable Square" in the National Museum of Modern Art, Kyoto, in 1962. In 1964 he was invited to present three performances at the Carnegie Museum of Art. Byars returned to America in 1967, dividing his time between New York and Los Angeles; by the 1970s he began to spend increasing amounts of time in Europe. Since that time Byars has been the subject of numerous gallery and museum exhibitions worldwide, including Stedelijk van Abbemuseum, Eindhoven; Kunsthalle Düsseldorf; IVAM Centre del Carme, Valencia; Castello di Rivoli/Museo d'Arte Contemporanea, Turin; The Henry Moore Institute, Leeds; and Fundaçao de Serralves, Porto. Byars died in Cairo in 1997. Important posthumous exhibitions include The Epitaph of Con. Art is which Questions have disappeared?, Kestner Gesellschaft, Hannover (1999); The Arts Club of Chicago (2000); Life Love and Death, Schirn Kunsthalle, Frankfurt and Musée d'Art moderne et contemporain de Strasbourg (2004); The Perfect Silence, Whitney Museum of American Art (2005); and I'm Full of Byars, Kunstmuseum Bern (2008). Beginning in February several of Byars's late marble sculptures will be on view at ARoS Kunstmuseum, Århus, Denmark, as part of the exhibition Klein Byars Kapoor.
Early Works & The Angel is accompanied by a fully illustrated catalogue featuring a text by Dave Hickey. The exhibition is on view at Michael Werner Gallery in London from 17 January through 16 March 2013. Gallery hours are Tuesday through Saturday, 10 am to 6 pm. For more information please contact press@michaelwerner.com