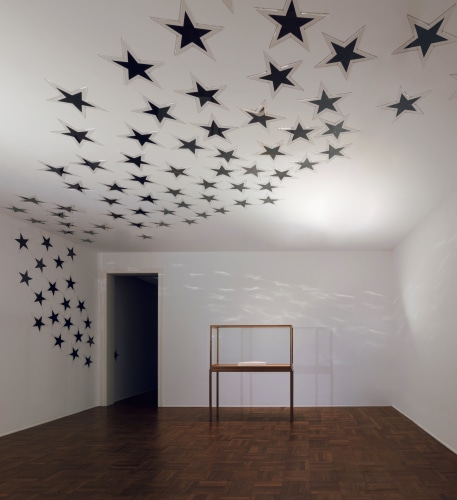 Michael Werner Gallery, New York is pleased to present James Lee Byars: The Milky Way. The exhibition will feature Byars's most ambitious two-dimensional work. Composed of 100 black silk paper stars, The Milky Way will envelop the gallery. This exhibition marks the first time the work has been exhibited.
Eros, inscribed in gold on one black star and hidden beneath the artist's stylized writing, is the genesis of Byars's The Milky Way. In Greek mythology and philosophy, Eros has many guises. In the earliest sources, Eros is considered a primordial diety, a creator of the cosmos. While we commonly think of Eros as the Greek god of love and procreation, Byars adheres to a Platonic understanding of Eros. For Plato and for Byars, Eros is a universal force to be harnessed and lead by, towards purity, beauty, truth and perfection.
While many artists use form to bring forward an idea, Byars does the opposite, taking an idea and giving it form. The Milky Way, created while the artist was visiting Japan, is an embodiment of Byars's lifelong quest to present beauty and perfection. The Milky Way serves as a framework for the viewer's imagination; the idea of a more perfect cosmos.
This exhibition coincides with the artist's first museum retrospective in China, opening 19 March at the Red Brick Art Museum in Beijing.
James Lee Byars was born in Detroit in 1932 and died in Cairo in 1997. He has been the subject of numerous museum exhibitions worldwide, including The Palace of Good Luck, Castello di Rivoli / Museo d'Arte Contemporanea, Turin (1989); The Perfect Moment, IVAM Centre del Carme, Valencia (1994); The Palace of Perfect, Fundaçao de Serralves, Porto (1997); Life Love and Death, Schirn Kunsthalle and Musée d'Art Moderne et Contemporain de Strasbourg (2004); The Perfect Silence, Whitney Museum of American Art (2005); ½ an Autobiography, MoMA PS1, New York and Museo Jumex, Mexico City (2013-2014); The Golden Tower, Campo San Vio, Venice (2017); and The Perfect Kiss, Museum of Contemporary Art, Antwerp (2018).
James Lee Byars: The Milky Way opens at Michael Werner Gallery, New York on 5 March. The gallery is open Tuesday to Saturday, 10am to 6pm, with appointments recommended but not required; the gallery is open on Mondays, but only by appointment. Social distancing will be in effect and wearing a mask is mandatory.
For more information, please contact the gallery at press@michaelwerner.com.