ENRICO DAVID: NERVE ENDING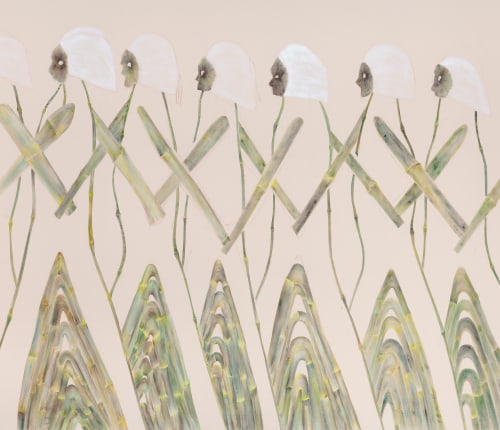 Michael Werner Gallery is pleased to present Nerve Ending, an exhibition of new works by Enrico David. Widely exhibited in Europe, David's works are rarely seen in the United States. Nerve Ending is the artist's first solo exhibition in a New York gallery and coincides with his solo exhibition, Head Gas, currently on view at the New Museum.
Nerve Ending marks a dramatic shift in Enrico David's career, which spans nearly 20 years. David first rose to prominence as a "contemporary surrealist" whose grotesque and highly abstracted portraits, often rendered in monumental and lush embroidery, belied a cool ornamental detachment. His works in sculpture were similarly stylized, drawing on traditions of craft and theatrical display as much as modernism and folk art. In David's recent works, all appearances of ordered objectivity are discarded, revealing a sensibility steeped in the language of contingency, doubt and instability. The artist's creative process is a type of translation, whereby the ineffable and instinctual urge to create an image takes form in a variety of media -- what the artist has described as the "nomadic default" of his work. Acknowledging the inadequacies of language, David's works assume a position of passive resistance against fixed meaning and facile comprehension.
For Nerve Ending, David's first exhibition at Michael Werner, the artist will exhibit new paintings and sculptures, including one of his most ambitious sculptures to date. The figures materializing in Nerve Ending emerge cautiously, hesitantly, at times fading into passages of abstraction and ornamental design, as if reluctantly present. The graphic elements at play in these works can reinforce or offset their profound psychological and emotional tenor. Hovering between resolution and dissolution, the liminal personae brought forth in Nerve Ending question our ingrained propensity for rational understanding. Ambiguous and disorientated, yet ultimately hopeful, they convey a powerful sense of will and the struggle to exist.
Enrico David was born in Ancona, Italy in 1966 and studied at Central Saint Martin's in London. He was a nominee for the Turner Prize in 2009 and has exhibited his works in galleries and museums throughout Europe and in the United States. His exhibition Head Gas, made for the New Museum in New York City, is on view through 22 April. Recent solo exhibitions include Repertorio Ornamentale, Fondazione Beviliacqua La Masa, Venice (2011); How Do You Love Dzzzzt by Mammy?, Museum für Gegenwartskunst, Basel (2009); Bulbous Marauder, Seattle Art Museum (2008); and Ultra Paste, ICA London (2007). His work is included in the group exhibition Secret Societies, organized by Schirn Kunsthalle Frankfurt and currently on view at CAPC Bordeaux. Enrico David lives and works in Berlin.
Nerve Ending is accompanied by a fully illustrated catalogue featuring a text by Dieter Roelstraete. Nerve Ending opens 8 March and remains on view through 21 April. Gallery hours are Monday through Saturday, 10AM to 6PM. Please call the gallery for more information or email press@michaelwerner.com