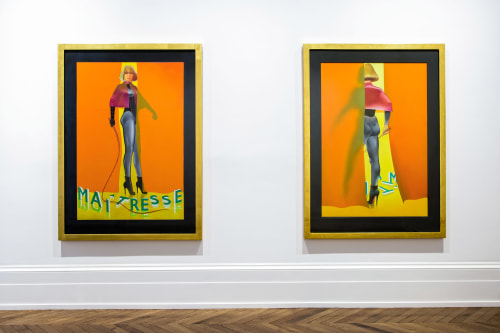 Michael Werner Gallery, London, is pleased to present Allen Jones: Maîtresse. The exhibition brings together for the first time the paintings that form Jones's "Maîtresse" cycle. Begun as a commissioned movie poster in 1975, "Maîtresse" developed into a discrete group of several major works by 2015.
The movie Maîtresse, directed by Barbet Schroeder, depicts the unfolding of an obsessive romance between a small-time crook and a professional dominatrix. Starring Gérard Depardieu and Bulle Ogier, and featuring the costume designs of Karl Lagerfeld, this sexually explicit film was controversial for its time. In 1975 the film's American distributor asked Jones to design a poster for Maîtresse and invited the artist to view the film privately in Paris. Unable to identify with its explicit sadomasochistic themes - Jones recalls feeling "scared to death" but equally enthralled - Jones was nonetheless taken with the film's powerfully stylised heroine, and he accepted the poster commission.
The painting he created depicted a high-heeled, leather-clad brunette standing before a parted curtain with a bullwhip in her hand. Letters spelling the film's title appear as scattered blocks of text below her. Jones developed the image on a canvas larger than the required size so as to maintain the utmost detail in the final reproduction of the poster. Concerned that Jones's image would be inappropriate in newspaper advertisements, the distributor asked Jones to drop the whip and change the brunette to a blonde; Jones obliged, replacing the whip with a ring of keys, and then quickly changed the work back to its original state once he'd been paid.
Jones kept the original "Maîtresse" painting for himself, excluding it from exhibitions. In recent years Jones began to reconsider the work, developing an increasing fascination with its subject and its latent potential. Of particular excitement for Jones was the possibility of using his poster illustration as a motif: beginning in 2008 and continuing for seven years, Jones created seven canvases around the motif of the original "Maîtresse", using the dominatrix figure as the means to explore space, form and color. The works share the same deep, fiery palette and overarching symmetrical structure, yet are markedly different in their depiction of light and shadow and the treatment of a figure as both a plane and a volume.
Allen Jones: Maîtresse is the first exhibition to bring together the complete cycle of eight paintings, comprising Jones's original canvas and the additional seven canvases Jones created from 2008 to 2015. Related works on paper provide additional context and insight into the artist's process.
Born in Southampton, England in 1937, Allen Jones lives and works in London and Oxfordshire. In 1986, Jones was elected as a Royal Academician by the Royal Academy. Since his first exhibition in 1963, his work has been featured in a number of solo and group exhibitions worldwide, most recently at the Royal Academy of the Arts, London from 2014-2015. Other major exhibitions include Kunsthalle Tübingen, UNESCO World Heritage Site Völklinger Hütte,Kunstsammlungen Chemnitz, (2012-2013); Figures Waiting, Ludlow Castle, Shropshire (2009); and Tate Britain, London (2007). A historical retrospective of Allen Jones is being organised by Sir Norman Rosenthal for Michael Werner, New York, and is scheduled for the second half of 2016.
Allen Jones: Maîtresse opens on 26 February at Michael Werner Gallery in London and remains on view through 6 May. Gallery hours are Tuesday through Saturday, 10AM to 6PM. For more information please contact the gallery at press@michaelwerner.com.