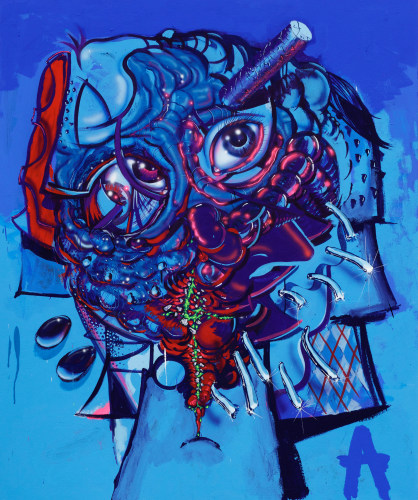 Michael Werner Gallery is pleased to announce Headspace, an exhibition of new paintings by Aaron Curry (b. 1972). This is the artist's first exhibition devoted to paintings in New York.
Drawing on late-20th century modernism, science fiction, comic book illustration and California street style, Curry's complex, intensely colored sculptures slyly upended received notions of abstraction, figuration and the role of sculpture as form-in-space. Painting has long been an essential constituent of Curry's three-dimensional work and has gradually come to the fore of his practice as a discrete artistic expression in its own right. Curry's paintings posit a thorough conflation of illusionistic depiction and sculptural volume. The insouciant abstraction of the paintings' shaped supports nods to the sculptural core of Curry's sensibility, whereas their painted surfaces posit a complexity of depth and mystery encompassing the flatly digital and cosmically multidimensional. Curry's paintings represent a bold step forward in his ever-evolving conceptions of meaning, form and space.
Aaron Curry was born in San Antonio, Texas, and currently lives and works in Los Angeles. He has exhibited his works throughout the US and in Europe, including solo exhibitions at the CAPC Contemporary Art Museum, Bordeaux; the High Museum of Art, Atlanta; Schinkel Pavillon, Berlin; Kestner Gesellschaft, Hannover; Galleria d'Arte Moderna e Contemporanea, Bergamo; and Ballroom Marfa, Marfa, TX. Recent group exhibitions include After Picasso: 80 Contemporary Artists, Wexner Center for the Arts, Columbus, OH; The Los Angeles Project, Ullens Center for Contemporary Art, Beijing; and Variations: Conversations In and Around Abstract Painting, Los Angeles County Museum of Art, Los Angles. The artist's sculptures featured prominently in Alexander Calder: Form, Balance, Joy, organized by the Museum of Contemporary Art, Chicago, which traveled to the Nasher Sculpture Center, Dallas and Orange County Museum of Art, Newport; and Statuesque, organized by the Public Art Fund at City Hall Park, New York, which also traveled to the Nasher Sculpture Center. In 2010 Curry was awarded the Guna S. Mundheim Fellowship in the Visual Arts at the American Academy in Berlin. In 2013, Curry presented his most ambitious project to date, Melt to Earth, a site-specific installation of monumental sculptures created for Lincoln Center's Josie Robertson Plaza in New York City.
Aaron Curry: Headspace opens 9 September at Michael Werner Gallery in New York and is on view through 29 October. The exhibition will be accompanied by a full-color catalogue with a text by Jonathan Griffin. Gallery hours are Monday through Saturday, 10AM – 6PM. For more information please contact the gallery at press@michaelwerner.com.